Descendants and family of John Lapraik
This page is a "work in progress" and is being supplemented as more information comes to light.
If you have additional information about Lapraik's descendants who were born before 1850 your feedback would be welcome.
By Margaret Rankin, Lapraik had five children of whom three became adults. One of the sons died abroad, the other, William, at Woolwich
By Janet Anderson, he had nine children who are believed to be: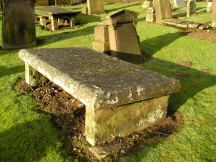 James 1766 - 1855
Mary 1768 - 1848
Hugh 1769 - ?
Thomas 1771 - ?
Alexander 1773 - ?
John 1778 - 1785
Jane 1779 1822
Samuel 1784 - ?

The two tombstones in Kirkgreen Churchyard have inscriptions which refer to other members of the family who are buried there.
The tabular gravestone reads:
In memory of
John Lapraik late of Dalfram
Who died at Muirkirk on the
7th May 1807 in the 80th year of his age.
Also his daughter Jean who
died in 1822 aged 12
AND
Janet Anderson his spouse aged 85 years

His grandsons JOHN LAPRAIK
Who died 1810 aged 16
THOMAS LAPRAIK who died in 1816 aged 18
JAMES LAPRAIK who died
in 1820 aged 20 years
ALSO JANE LAPRAIK who died 16th June 1825
aged 16 years.
The upright gravestone reads:
JAMES LAPRAIK
IN MEMORY OF HIS FATHER
DAVID MAUL LAPRAIK
LATE FARMER HALL
WHO DIED ON 10th FEBy 1865
AGED 62 YEARS
ALSO HIS CHILDREN
JOHN DIED 1st APRIL 1838
AGED 4 WEEKS
THOMAS DIED 24th DECr 1841
AGED 3 MONTHS
GRACE DIED 18th APRIL 1853
AGED 11 1/2 YEARS
JANET DIED 6th MAY 1853
AGED 8 YEARS
HIS SON JAMES LAPRAIK
DIED AT LONDON 8th MAY 1883
AGED 47 YEARS
HIS WIFE MARY MCMINN
DIED 12th MAY 1890 AGED 86 YEARS.
Some of Lapraik's possessions were gifted in 1923 by Miss M.S. McMinn of Wellwood Fairlie to the (now defunct) Lapraik Burns Club Number 56 in the Burns Federation. At that time the articles included:
a folding writing desk
citchen arm-chair
two dining room chairs
a small table
old willow pattern jug
toddy ladle
porridge stick
book bearing Lapraiks's signature and that of his spouse
two miniatures of Lapraik's brothers
family Bible with record of the births of members of the family born after 1765
(See "Cairntable Echoes" - extract from August 1932 issue)
At least some of these items are now held by East Ayrshire Council, Museums Arts and Theatre Section and include a wooden armchair and the family Bible which has a list of his children and their birth dates - he had five children with Margaret Rankin (three of whom reached the years of maturity) and nine further children with Janet Anderson..
In 1840 the book "The Contemporaries of Burns and the more recent poets of Ayrshire" recorded that:
Three brothers and one sister still reside near the place of their birth. The latter was married to a Mr McMinn, farmer Nether Wellwood. She is a widow - an elderly matronly woman - and perfectly remembers the visit paid by Burns to her father at Muirsmill. Her brother Thomas, has long been shepherd on the farm, which is large, and consists partly of pasture. James and John reside in Muirkirk. The former is a retired farmer. The latter served his apprenticeship as a cooper, but was pressed on board a man-of-war; and, having been captured by the enemy, was ten years in French prison. After the peace he returned to Muirkirk, where he now follows his original calling. He is the only one of his trade in the village, and is on that account generally styled "the cooper". He is well-known in the neighbourhood - can spin an interesting yarn - and, like a genuine old tar, is by no means averse to his grog.
Janet Anderson lived till the 5th March 1825 when she died aged 83.
James Lapraik (1766 - 1855) is believed to have had the following children:
Janet (1793 - ?)
John (1794 - 1810)
Mary (1796 - ?)
Thomas (1799 - 1816)
James (1800 - 1820)
David Maule (1803 - 1865)
Jane (1806 - 1825)
William Dykes (1808 - ?)
John (1810 - ?)

---
http://www.lapraik.com/history/family.htm
The wording of the inscriptions on the gravestones was noted by Glyn Sutcliffe