Lapraik family - desendants
John Lapraik married twice:
1. By Margaret Rankin (?-1756)
Five children, of whom three are known and became adults:
William Lapraik (1740-1806)
John Lapraik (1755-1811)
Margaret Porteous (nee Lapraik) (1756-1811)
2. By Janet Anderson (1740-1825)
Believed ten children of whom nine became adults:
1. James Lapraik (1766 - 1855) farmer, married Grizel Blackwood

Children:
Janet Anderson (nee Lapraik) (1793-1874)
John Lapraik (1794-1810)
Mary Lapraik (1796-1859)
Thomas Lapraik (1799-1816)
James Lapraik (1800-1820)
David Maule Lapraik (1803-1865)
Jean Lapraik (1806-1825)
William Dykes Lapraik (1808-1856)
John Lapraik (1810-1893)
2. Mary Lapraik) (1768 - 1848) married John McMinn, farmer at Nether Wellwood.

Children of John McMinn and Mary Lapraik:
Janet McMinn (1796-?)
Jean McMinn (1800-?)
Mary Lapraik (nee McMinn) (1804-1890)
John McMinn (1810-?)
3. Hugh 1769 - ? married (1) Anna Cumming and (2) Mary Brown

Children of Hugh Lapraik and Anna Cumming:
John Lapraik (1796-?)
Christina Lapraik (1798-1874)
Ann (1801-?)
Children of Hugh Lapraik and Mary Brown:
Susan Lapraik (1811-?)
John (1813-?)
4. Thomas (1771 - ?) married Elizabeth Hood. He was a shepherd on the farm managed by Mary McMinn (nee Lapraik) and her husband, John.

Children of Thomas Lapraik and Elizabeth Hood:
Alexander Lapraik (1797-?)
John Lapraik (1799-?)
Thomas Lapraik (1802-?)
George Lapraik (1805-?)
Janet Lapraik married (1) Murdoch and (2) William Gibson (1810-1901)
George Lapraik (1812-?)
5. Alexander (1773 - ?) married (1) Jean Weir and (2) Margaret Watt.

Children of Alexander Lapraik and Margaret Watt:
6. Andrew (1774)
7. John (1777 - ?) A Cooper (a person trained to make wooden barrels from timber staves) and was press-ganged to fight in the Napoleonic War where he was captured and imprisoned for 10 years.

8. Jane 1779 - 1825

9. George Rankine Lapraik (1782 - 1838) married Susan Black (1782-1841). Made a freeman of City of London (via his membership of Guild of Needlemakers) in 1809 when it was recorded that his father was "John of Muirkirk - North Briton - Farmer"

Children of George Rankine Lapraik and Susan Black:
Douglas Lapraik (1818-?). He was....
John Lapraik (1814-1839)
Mary Lapraik (1811)
Susan Matilda Lapraik (11813)
George Rankin Lapraik (1816-1840)
10. Samuel (1784 - 1785)

Commentary on individuals
In 1840 in the book "The Contemporaries of Burns and the more recent poets of Ayrshire" it is recorded that:
Three brothers and one sister still reside near the place of their birth. The latter was married to a Mr McMinn, farmer Nether Wellwood. She is a widow - an elderly matronly woman - and perfectly remembers the visit paid by Burns to her father at Muirsmill. Her brother Thomas, has long been shepherd on the farm, which is large, and consists partly of pasture. James and John reside in Muirkirk. The former is a retired farmer. The latter served his apprenticeship as a cooper, but was pressed on board a man-of-war; and, having been captured by the enemy, was ten years in French prison. After the peace he returned to Muirkirk, where he now follows his original calling. He is the only one of his trade in the village, and is on that account generally styled "the cooper". He is well-known in the neighbourhood - can spin an interesting yarn - and, like a genuine old tar, is by no means averse to his grog.
There is a more detailed account of Cooper Lapraik's experiences in the Napoleonic Wars in "A Muirkirk History - Cairntable recollections" by James Taylor:
The Cooper having learned his trade (quite common in every village then), and gone forth and had been employed at Ayr, Troon, and lastly at Irvine, when a sad fate befell him. The wars of Napoleon were in full swing, and so was the British press-gang. One fine afternoon John was taking a walk near the shore when he was suddenly pounced upon by some armed men, and that same night he found himself a unit of His Majesty's Navy. Misfortune still dogged footsteps, for a little later he became a prisoner of war, shut up in loathsome French prisons. Those who have read how the French treated their prisoners can only form some idea of what the poet's son suffered. But everyone can understand to what straits a man has come when he looks forward with delight to his turn of eating the candle-end when a new one was allowed to the prisoners. Lapraik often related this to his neighbours after he came home. On the other hand, the French prisoners in Britain were at first very well treated, much as shipwrecked men would still be. When the nation learned of the cruel lot to which the British unfortunates were doomed in France, a great reaction soon took place. The British lion is generally a respectable, dignified, magnanimous animal, but at times, especially if he gets nervous, he can become as mean and cruel as any common tiger. Any kindness or even toleration shown to French prisoners was now a crime punishable by law, and poor Lapraik had even yet to suffer at the hands of his fellow countrymen.

After long years of imprisonment, when the exchange of prisoners took place, John found himself dumped at Leith, so broken in mind and body that it took him over a week to reach Dernhunch, where his brother was still farmer. All along the way he was taken for a Frenchman, for he could scarcely speak a decent phase in his native tongue, although he spoke French pretty well. Nor is this to be wondered at. David Livingstone had great difficulty in expressing his ideas in English after a long sojourn in Africa, whilst Darwin says of Jemmy Button, who was expected to interpret betwixt the crew of the Beagle and the Fuegians — We had already perceived that Jemmy had almost forgotten his own language. I should think there was scarcely another human being with so small a stock of language." Jemmy was quite useless, and his savage brethren understood him not. Poor Lapraik was despised by all, and any little food or shelter he received by the way was given him by stealth. Had it not been that he was so done out and helpless he would probably have suffered assault on several occasions. He got a surprise when he arrived at Parishholm, then known by the less euphonical term of Paddock-home. A large lake lay before him now where no such lake should be. The reservoir, which is overlooked by Glenbuck House, is entirely artificial. Mr Hodge says of it (p.29)—"This is one of the Catrine's Coy reservoirs, formed in 1802, for storage of water when water-power was more in use." The date is given here to show that Lapraik's imprisonment might have been any length of time between twelve and twenty years. Although the lake is deep, a road formerly ran right through it, and when the eastern and western banks were made it is said that a house, trees, road, and everything were covered up with Ayr's water. It was dark when Lapraik arrived at his brother's house, where the farmer informed him that, on account of instructions issued by the Government and also by his landlord, he dared not harbour a French refugee. A sister of the farmer, Mary Lapraik (the same who in 1841 certified that Burns had visited her father in Muirsmill, and who afterwards married Mr McMinn, farmer in Wellwood, was smarter than he, for she discovered that the seeming worn-out Frenchman was no other than their long-lost brother. Needless to say, he received a hearty welcome. The Cooper never fully recovered his health either of body or mind. Two years later Mr McMinn, now his brother-in-law, built him a workshop at the corner of Kirkgreen, in close proximity to another house of his, where the last Lapraik in Muirkirk dwelt. Here then the Cooper worked out his days in peace and comfort. Every boy in the village was welcome in his workshop, and although many took advantage of this privilege, not one was ever known to abuse it in the least degree.

It is said that the Cooper had a mortal hatred of any form of imprisonment, and people had to keep their eye on him if he entered a house where any bird was encaged, for Lapraik always promptly proceeded to set it at liberty, unless restrained by some one. The Cooper was never married.
Kirkgreen Churchyard tombstones
There are two tombstones in Kirkgreen Churchyard have inscriptions which refer to other members of the family who are buried there.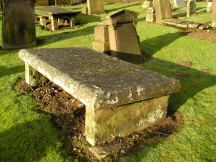 1. A tabular gravestone reads:
In memory of
John Lapraik late of Dalfram
Who died at Muirkirk on the
7th May 1807 in the 80th year of his age.
Also his daughter Jean who
died in 1822 aged 12
AND
Janet Anderson his spouse aged 85 years

His grandsons JOHN LAPRAIK
Who died 1810 aged 16
THOMAS LAPRAIK who died in 1816 aged 18
JAMES LAPRAIK who died
in 1820 aged 20 years
ALSO JANE LAPRAIK who died 16th June 1825
aged 16 years.
(The grandchildren are all children of James Lapraik (1766-1855) the oldest child from the poet John Lapraik's second marriage to Janet Anderson.)
2. An upright gravestone was commissioned by a different James Lapraik (1836-1883) who was the oldest son of David Maule Lapraik (1803-1865) who was a son of James Lapraik (1766-1855), the oldest child from the poet John Lapraik's second marriage. It reads:
JAMES LAPRAIK
IN MEMORY OF HIS FATHER
DAVID MAUL LAPRAIK
LATE FARMER HALL
WHO DIED ON 10th FEBy 1865
AGED 62 YEARS
ALSO HIS CHILDREN
JOHN DIED 1st APRIL 1838
AGED 4 WEEKS
THOMAS DIED 24th DECr 1841
AGED 3 MONTHS
GRACE DIED 18th APRIL 1853
AGED 11 1/2 YEARS
JANET DIED 6th MAY 1853
AGED 8 YEARS
HIS SON JAMES LAPRAIK
DIED AT LONDON 8th MAY 1883
AGED 47 YEARS
HIS WIFE MARY MCMINN
DIED 12th MAY 1890 AGED 86 YEARS.
Some of Lapraik's possessions were gifted in 1923 by Miss M.S. McMinn of Wellwood Fairlie to the (now defunct) Lapraik Burns Club Number 56 in the Burns Federation. (Miss McMinn would be a descendant of Mary Lapraik (1768-1848), the first daughter from John Lapraik's second marriage who married John Mcminn farmer at Nether Wellwood.)
The articles, according to an extract from August 1932 issue of the "Cairntable Echoes", included:
a folding writing desk
kitchen arm-chair
two dining room chairs
a small table
old willow pattern jug
toddy ladle
porridge stick
book bearing Lapraik's signature and that of his spouse
two miniatures of Lapraik's brothers
family Bible with record of the births of members of the family born after 1765
At least some of these items are now held by East Ayrshire Council, Museums Arts and Theatre Section.
---